Dining at Lei Yue Mun
The process of dining at Lei Yue Mun is very different from what you might expect in a typical restaurant situation.
First you will select your seafood from the live fish shops, choosing the type and specifying the quantity of each you want. Ask for the price per "Catty", the local weight which is about 600 grams or one and a third pounds, and then expect to bargain on that price.
Next select your seafood, you will want to have a selection to allow different dishes to be prepared. Choose at least a medium to large fish, but not too large such that it would be tough, some big prawns and some smaller shellfish such as clams or mussels. Don't worry if you are not sure how they should be cooked, as the restaurant will know.
Once seafood has been selected and weighted you'll be told the final price. You can bargain a little more and round down this price if you are choosing several things.
The operator of the seafood selling stall will then be able to recommend a nearby restaurant where you can have it cooked, they will help to carry the food to that restaurant.
At the restaurant tell the waiter how you want the different seafood cooked. If you have sufficient quantity of one type such as prawns you can ask for it to be divided into two. For example prawns are excellent steamed whole, but many people also find fried with chili and garlic or butterflied and steamed with garlic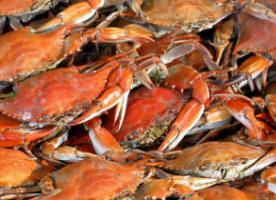 The fees you pay at the restaurant are for cooking the food, not the seafood itself. Of course if you have additional dishes such as meat or vegetables then you will pay for this directly to the restaurant as normal. The same applies to rice and drinks.
Although Chinese food is typically served with all dishes on the table at once to share when it comes to seafood as in Lei Yue Mun as in any major seafood area in Hong Kong there is more a tendency to serve dishes in sequence. This allows each type of seafood to be appreciated as it is hot from the Wok and at it's best flavour. So as each dish lands on the table be bold and eat up, because more will be coming!
As is the norm with Chinese dining in Hong Kong once you have completed your meal it is expected that you pay the bill and leave. There is no "relaxing with a drink after dinner" tradition in Hong Kong as there is in some parts of the world.
Lei Yue Mun - The Definitive Guide - Gett here - Seafood Bazaar - Dining - Fishing Village